Family dynamics have changed these days. Our modern life has a big influence on it but being a family is no longer exclusive to being blood relatives or comprised of a father, mother, and child/children. Pets are part of the family too and many humans have showered their pets with excessive love and attention and even brought some to work just so they can continue caring for them and still earn money to pay for bills and more. It is a prevalent problem among pet parents who don't have kids of their own because they delay getting married in order to enjoy the single life they end up becoming too attached to their pets and vice versa. Fortunately, society isn't the way it used to and certain industries have become more flexible to accommodate changing behaviors and lifestyle of the people.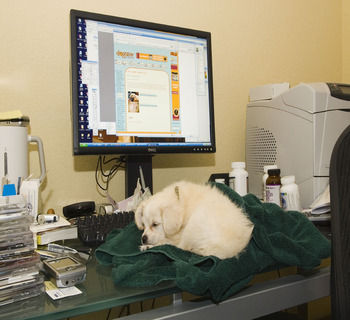 And since most millennials have become pet parents themselves, even employers learned to accommodate this added consideration when it comes to hiring employees but they're only a small fraction of their entire industry and many still haven't jumped in on the bandwagon. Even statistics can attest to the fact how the number of pets such as dogs has increased in each household in North America alone. If pet parents can't find or afford to hire a pet sitter or leave them in a pet daycare center like typical families with young children.
But owning a pet can be expensive if you choose these options. Other options, of course, include going home midday to walk and feed a beloved companion, or having a friend or neighbour willing to take on this task for you.

Yet there's another way to deal with work-family balance that is growing in popularity: Taking pets to work.

This is fast becoming a sought-after perk that many employers are using as a new benefit — the battle for talent continues, after all, and employers have to compete in as many ways as possible.

As a longtime HR expert, in addition to being a devoted dog person myself, I know this raises a host of other issues, however. Your love for your pet might infringe upon the rights of others. What happens if your co-workers are allergic to Fluffy? Or scared of your beloved hound?
(Via: https://theconversation.com/when-fluffy-wants-mommy-the-growing-demand-for-pet-friendly-workplaces-90428)
Taking pets to work can be a struggle for many employers and even the employees themselves as we all know pets can get noisy and bothersome at times and may pose as a distraction especially when clients are in site and your furry friends can get in the way of meetings and other important transactions. Some have taken baby steps into welcoming pet-loving employees but of course, pets that are widely accepted are limited to your usual dogs and cats and a few quite common ones but hopefully nothing exotic. Many are still confused, though, as not everyone appreciates having animals in the office so expect to see gradual changes and nothing drastic for the meantime.
A growing number of companies are open to pets joining their owners in the workplace. Around 8 percent of UK employees can bring their furry friends into the office every day. In the U.S., the proportion of companies allowing pets in the office has increased from 5 percent in 2013 to 8 percent, according to a 2015 Society for Human Resource Management survey.

Other companies are opting for mobile petting zoos such as Washington D.C.'s Squeals on Wheels or Austin's Tiny Tails to You, which bring their well-trained assortment of animals into offices for a few hours under the watchful eye of supervisors. In India, JLL recently held its first Paws at Work session in its Guragon office where staff spent four hours with three specially trained dogs from FurBallStory.
(Via: https://www.jllrealviews.com/trends/workplace/can-pets-become-part-office-life/)
Those who have an open mind justify that having these furry friends in the workplace lowers stress levels and improve the well-being of employees and it consequently improved production and job satisfaction. As long as certain rules are still observed and having them loitering in the office poses no threat or risk to anyone then many industries might consider having animals on-board too along with their owners. At the end of the day, it is still up to everyone in the office from the higher management to the production people who can decide whether having pets at work is a great idea or not and not just because it is a rising trend in other offices these days.