Alright, so it's Black Friday week. Which is stupid, of course, as Black Friday is supposed to be a DAY, and not a week, but what can you do?
I'll tell you what you can do… You can go save yourself a whack of cash. Simple, easy as pie. Get out there and save, or even better, just surf the web – let's let the suckers troll the malls for crappy gear.
Each year, I try to do a Black Friday sales special, and this year is absolutely no exception. This year, we take one of my favorite things of the year (smoking and dabbing, of course), and find the sale on the coolest, best looking smoking devices and bongs available. So, we have Thick Ass Glass.
A Little About TAG
Thick Ass Glass, or TAG as they are also called, are one of the best online headshops around. These guys literally have the cleanest set of water pipes and bongs on the web, but the most important point to make is that these are all heavy glass bongs. Like, if someone breaks into your house, pick up your TAG bong and hit them with it. It's practically a guarantee that the bong survives.
Basic fact: TAG tends to have water pipes that are made with AT LEAST 5mm thick glass, with some pieces using 7, 9, 12 and 14mm glass! What this means is that the key bugaboo for virtually any smoker, i.e. breaking your bong during a session, is virtually nonexistent. That's right, you literally have to try as hard as possible to break a Thick Ass Glass water pipe or dab rig. I kid you not, as I've owned many of their pieces for years, and no matter the drop, the glass pipes these dudes make just live on.
At any rate, TAG is having a huge Black Friday sale… that means like 30% off of everything in the store (and this is a very low priced store to begin with!). So I thought I'd take a look at a few of their winners. Let's start with…
Cheap Water Pipes And Bongs
We all have different tastes, I know, but I'm more of a flower guy than a dab guy. So my bong picks are ones that I frankly will be selecting from when I give myself my annual Christmas gift (can't exactly ask my Mom for a bong, now can I?). TAG's huge bong collection is here. Here are my top 3 picks: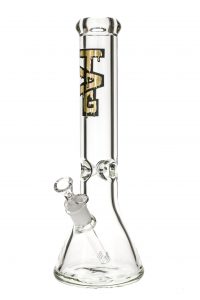 1. The TAG 14″ Beaker Bong – Yep, it's a classic. Nothing brings me back to the good ol' days like this classic beaker water pipe, a throwback to the time when clear scientific glass was king, and everything wasn't some kind of brutal tie-dye hippie-dippy design. This bong is a beauty in terms of minimalism, and foregoes one of TAG's main skills – that being percolators. Instead, you get a classic diffusing downstem, and some of the thickest glass (9mm) I've ever seen in this style of beaker water pipe. This one is top of my list, and I may be picking it up sooner than later!
2. The 16″ Double Honeycomb To Spinning Splashguard – This thing is an absolute beast of percolation power. Not only are we talking about a 16″ tall mega bong – we are also talking 7mm glass with a 15mm base. That is some practically unbreakable bong action right there, friends, and the smoothness of the hits is virtually guaranteed. Honeycomb percs are easily a favorite of mine (they also do a few fritted disc classics as well), and the spinning splashguard can provide quite a show. But don't believe me… watch the video below, man!
3. The 12″ Single Honeycomb To Fixed 8 Arm Tree – OK, so this one sports a spinning splashguard as well, meaning three percs for a bong that comes to under $100. This is a winner for those that like their water pipes smaller, but still a good size. The glass is a little thinner here at 4mm, but come on, folks! Not only is it an amazing 14mm jointed piece, it can be had with colored glass accents for only 80ish dollars. What's not to love here?